behind the scenes
This site was first opened on December 21, 2009 as part of a female shrine challenge over at Amassment. That's not to say I made this page on a whim, but definitely it helped me get off my ass and get to work! (Seriously, girls = awesome!)
The main focus of this site is on exploring who Anna is and the effect she has on the world of Supernatural, because the world doesn't need more screencaps and I don't really feel a desire to write Anna fanfiction (though I did try my hand at making a few icons). I know I can get a bit opinionated, but I love talking to people about Anna and Supernatural so I'm entirely open to discussion (feel free to e-mail me here).
"No Quarter"?
I agonized over what to name this site for quite a few days, but I knew for certain that I wanted it to come from classic rock as it's such a huge part of the series. I also felt that an Anna fansite deserved a name that was nothing short of badass. I spent some time digging through my dad's old records, considered Jefferson Airplane and Pink Floyd, and eventually decided that no - it had to be Zeppelin. Thus this site was named No Quarter, a song I felt would do the trick not only for its meaning, but also because Q is a letter I feel to be greatly underappreciated. That's how I roll.
Awards & Recognition
There's just something wonderful about recognition from peers, and this site has been awarded not once but twice now. So thank you from the bottom of my heart!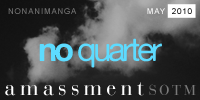 References
Beyond rewatching certain episodes dozens of times, the following sources were referenced in the creation of this site:
Supernatural Wiki
Wikipedia: Supernatural
TVGuide.com interview with Julie McNiven
Julie McNiven in LA 09: Kissing Jensen & the Titanic moment
Julie McNiven interview in Supernatural Magazine Issue 10
Encyclopedia of Angels by R. E. Guiley
Educational Psychology by A. E. Woolfolk, P. H. Winne, & N. E. Perry
I tried very hard to avoid reading other fan's opinions before and during working on this page, so unless otherwise stated this insanity is all my own.
All images from Supernatural used throughout this site I captured myself. And now it's confession time.. I can't for the life of me draw wings, so you know those ones on the main graphic? Totally traced from a picture of Eternal Sailormoon!
Lastly, the joy of making a site about a character from a series that's still ongoing is that at any point I could be proven wrong! If that happens I'll try to update as quickly as possible so bear with me. Heck, I almost welcome it, because it means that Anna would have to be included in an episode, and more Anna is a very good thing.